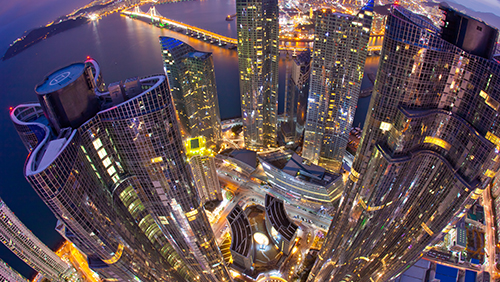 Busan Metropolitan City, a bustling city with approximately 3.5 million residents, is located on the southeastern tip of the Korean peninsula. Busan covers an area of 993.5km², which is 0.9% of the whole landmass of the Korean Peninsula. The natural environment of Busan is a perfect example of a harmony between mountains, rivers and the sea. Its geography includes a coastline with superb beaches and scenic cliffs, mountains which provide excellent hiking and extraordinary views, and hot springs scattered throughout the city. Busan also enjoys four distinct seasons.
Busan is the second largest city in Korea. The city has grown into the largest container handling port in the country and the fifth largest one in the world benefited from its location adjacent to harbors with the rise and fall of tides. Its natural endowments and rich history has contributed to its reputation as a city of tourism and culture, and also an iconic representative city of film.
The multidimensional image of Busan in between the spectacular skyscrapers of Haeundae and the idyllic scenery of the old downtown area has attracted filmmakers and as such has emerged as a backdrop for various films. In addition, the city has been designated as a UNESCO (United Nations Educational, Scientific and Cultural Organization) Creative City of Film in December 2014 for the first time in Asia based on its contribution from Busan Film Commission that established its foundation for the revitalization of the film and video industry in Busan with a world-class shooting support system, Busan International Film Festival, the first and greatest film festival in Asia, Busan Cinema Center, a landmark of the city of film in Busan and various policies and infrastructures that have been put into place to date.